Drilling Tubulars, Drill Pipe & Pipe Casing==============
NST® | Rentals | Flush Joint | Drill Collars | HWDP | HDD/Utility Pipe | Drill Pipe Reconditioning | Pipe Casing | Drill String Design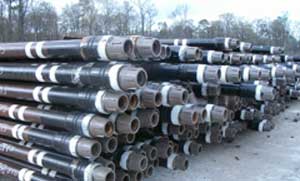 Holly Pipe Corporation can fulfill any customer specification for new or premium used drilling tubulars such as drill pipe, drill rod, drill collars, heavy weight drill pipe (HWDP) and pipe casing. Drillers working in the oil and gas, utility, geothermal, water well, horizontal directional drilling (HDD), and trenchless underground construction industries rely on Holly Pipe for dependable drill pipe and manufacturing services required to maintain a drill string and reduce downtime in the field. Holly Pipe's experienced and knowledgable sales team can help you choose the right drilling tools and equipment for your needs. For technical data of torque and tensile values of API drill pipe click here.
NST® - Nugent Special Thread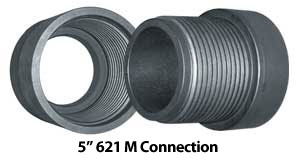 Holly Pipe Corporation is the exclusive distributor and licensee of Nugent Special Thread (NST) drill pipe, subs and connections. NST drill pipe was designed by drillers, for drillers to overcome multiple horizontal and directional drilling problems and is adaptable to any API tubing. Used drill pipe rendered unsuitable for drilling can be refurbished to extend its workable life by rethreading NST onto the preexisting API box or pin. By refurbishing drill pipe our customers effectively double the usable life of their drill string.
The NST design enables the use of non-conventional bits and tools allowing greater fluid transfer and larger bit size use. It also develops 50% greater torque and compression than standard API tool joints of equal grade, size and dimension. For technical data of torque and tensile values of NST drill pipe click here.
Drill Pipe Rentals
Holly Pipe provides drill pipe rental to drillers in the United States and internationally. Our rental drill pipe is kept in pristine order and ready to go at a moment's notice. Upon return the rental drill pipe is thoroughly cleaned, inspected and tested for quality in compliance with API standards. Contact us to reserve your drilling tools today!
Holly Pipe understands how hard it can be to find dependable drill pipe to buy or rent at a reasonable price. We can provide API drill pipe with standard connections or the modified NST drill pipe for special projects. We are dedicated to meeting your needs not only with the drilling tubulars required, but also with the knowledge about its integrity. When using expendable equipment, it is best to turn to someone who knows the business of drilling. For technical data of torque and tensile values of API drill pipe click here.
Flush Joint Drill Pipe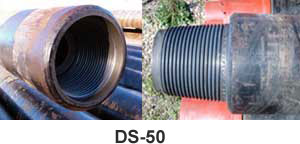 When the job requires special tools, you can count on Holly Pipe. We provide flush joint drill pipe in extreme cases where the bore runs uphill or is constricted with tight cobble. The flush joint is manufactured by inertia welding tool joints on to an upset 6 5/8" tubing. The DS-50 connection combined with the classic 6 5/8" tubing provides tremendous strength and durability.
Maximum torque to yield (twist): 80,000 ft/lbs
Maximum tensile (pull): 961,000 ft/lbs
Maximum load to buckle 30' (push): 80,000 ft/lbs
Drill Collars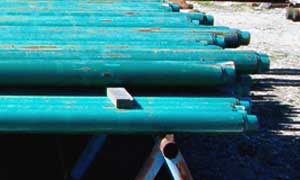 Drill collars play a heavy role in today's world of drilling. Holly Pipe is committed to serving all drilling industries and will meet or exceed customer specifications for drill collars and other drilling tubulars. We offer 3 1/8" to 11" steel or nonmagnetic drill collars with spiral, slick, slip recess, elevator groove, hardbanding, bore-back on box or special threading.
Heavy Weight Drill Pipe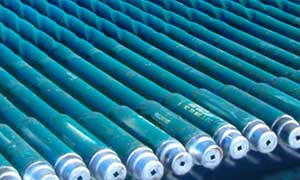 Heavy weight drill pipe (HWDP) is usually run in between the drill collars and the drill pipe in order to prevent fatigue of the drill pipe in the vertical drilling industry. Heavy weight drill pipe is also utilized in the horizontal directional drilling (HDD) industry for added strength in high stress situations. Holly Pipe can help you determine the appropriate heavy weight drill pipe for your project from size 2 7/8" to 6 5/8" with hardbanding, spiral grooves or special threading.
HDD & Utility Drill Pipe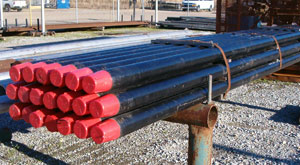 Horizontal directional drilling (HDD) tubulars, also referred to as drill rod or utility drill pipe, is smaller compared to oilfield tubulars and is available in standard lengths of 6', 10', 15' and 20'. To ensure accuracy while loading mini-HDD machine racks, it is important that the length of the drill pipe is consistent and exact. Holly Pipe can recondition HDD and utility drill pipe through cleaning, inspecting, rethreading and bucking on new connections in order to bring the drill pipe back to the exact length.
Drill Pipe Reconditioning
Refurbishing drill pipe and subs is a specialty of Holly Pipe, and we welcome the opportunity to help drillers drive ahead with premium reconditioned tools. We can buildup and hardband drill pipe, refurbish connections, or re-tool joint the ends of HDD pipe.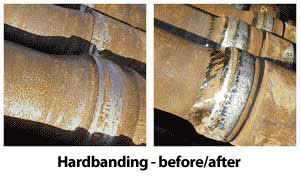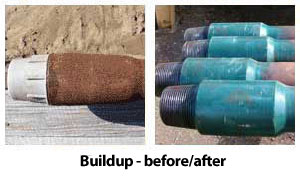 Holly Pipe can recondition HDD and utility drill pipe through a process we are very familiar with. Any pipe that does not conform to the inspection at any time will be separated from the batch. Only the pipe that contiues to pass inspection will go on to ronconditioning. First, we inspect the tool joint thicknesses. Second, a cleaning process on the O.D. & I.D. allows us to inspect the rest of the tube and tool joint areas. Third, we typically cut new connections on each side of the pipe and sub savers to screw on the pin side. The sub savers allow pipe the additional length it needs to reach the correct shoulder to shoulder length (+ / - 1/4"). Fouth, the sub savers are permanetly bucked on pin side at 80% torsional yeild strength with thread locking compound. Finally, it is the customers preference weather thread lubrication and/or protectors are applied.

Wash Over Pipe Casing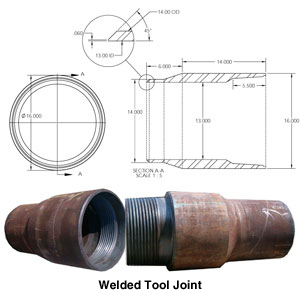 The horizontal directional drilling (HDD) industry uses wash over pipe casing regularly to prevent hydro-fractures, stabilize the pilot bore, prevent cave in, and increase the bore length. Pipe casing is typically welded in 31' lengths and rotated into the bore hole. Holly Pipe's proposal to the HDD industry is called "Drill and Drive," and manufacturing it involves forming a special tool joint with an increased taper on the threads. The tool joints are then welded onto the pipe casing to allow more forgiveness upon make up. These tool joints are available in the following sizes:
13 ¾" OD x 10 ¾" ID
14 ¾" OD x 11 ¾" ID
16" OD x 13" ID (Click for CAD detail)
We also offer integral threaded pipe casing where typical thick wall / high tensile casing is utilized in 32' lengths. This seamless method results in manufacturing a totally flush joint connection for jobs where less resistance on the open hole is required. We offer the flush joint casing in the following sizes (with approximate I.D's):
5" O.D. x 4 1/4" I.D.
6 5/8" O.D. x 4 3/4" I.D.
7" O.D. x 5 7/8" I.D.
8 5/8" O.D. x 7 1/2" I.D.
9 5/8" O.D. x 8 7/16" I.D
10 3/4" O.D. x 9 1/2" I.D.
11 3/4" O.D. x 10 3/4" I.D.
13 3/8" O.D. x 12 1/8" I.D.
16" O.D. x 15" I.D.
Drill String Design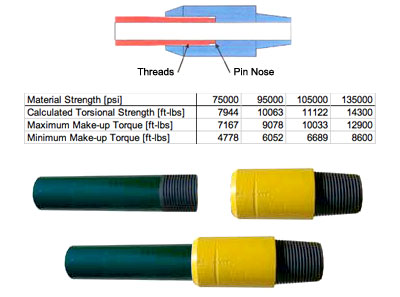 Holly Pipe can mass produce a variety of common drilling tools, but if you have an idea for a custom tool we can assist you with design and manufacturing. Let us know how the tool will be used, and you can be reassured that the tool will be effective. Water well drill pipe is typically manufactured by shortening 31' to 20' pipe and milling wrench flats on the box end. Our 3 ½" 15.50# print shows the in-house pin connection for water well drillers. Visit our machine shop for more information.
For more information please contact us.